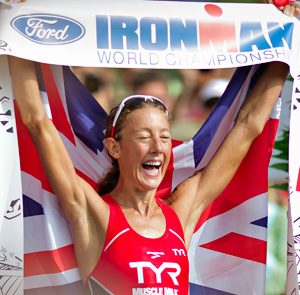 Christine Ann Wellington OBE is a former professional triathlete and four-time Ironman Triathlon World Champion. She holds, or held, all three world and championship records relating to ironman-distance triathlon races: firstly, the overall world record, secondly, the Ironman World Championship course record (from 2009 until Mirinda Carfrae lowered it in 2013), and thirdly, the official world record for all Ironman-branded triathlon races over the full Ironman distance.
She won the World Championship in three consecutive years (2007–2009), but could not start the 2010 World Championship race because of illness, then – while suffering from injuries so severe that her former coach Brett Sutton said she should "not even be on the start line" – regained the title in 2011. She is the first British athlete to hold the Ironman Triathlon World Championship, and was undefeated in all thirteen of her races over the ironman distance. She is the only triathlete, male or female, to have won the World Championship less than a year after turning professional, an achievement described by the British Triathlon Federation as "a remarkable feat, deemed to be a near impossible task for any athlete racing as a rookie at their first Ironman World Championships."[4]
She lowered the world record on all three occasions (2009–2011) she raced Challenge Roth (formerly Quelle Challenge Roth) at Roth in Bavaria, Germany. Her current record of 8 hours 18 minutes 13 seconds is more than 32 minutes faster than the record which stood from 1994 to 2008, when Yvonne van Vlerken broke it by just over 5 minutes. Following her 2010 world record, her former coach Brett Sutton described Wellington as "a person of true international sporting excellence that is overshadowed by no one in any other sport."
Wellington is one of only three women to have achieved three consecutive victories at the Ironman World Championships, the other two being Natascha Badmann and Paula Newby-Fraser. The latter's course record at the World Championships had stood for 17 years until Wellington broke it in 2009. Wellington holds the four fastest times ever recorded by a woman over the ironman distance, and has the greatest number of sub-9 hour times – nine, five more than Newby-Fraser's previous record.
In addition to the Ironman titles, she was also the 2006 International Triathlon Union (ITU) Age Group World Champion and the 2008 ITU long-distance World Champion.
Before becoming a professional triathlete, Wellington worked for the British government as an adviser on international development and, for Rural Reconstruction Nepal, on development projects in Nepal. International development remains one of her passions. She is actively involved in supporting charities relating to international development and supporting and encouraging women and girls to take up sport.
She became, after meeting the parents of Jon Blais at her first world championship, an ambassador for the Blazeman Foundation, performing a "Blazeman roll" in his memory at the finish line of all her triathlon races since then.[6] She campaigns for full equality of women in prize money, sponsorship, and media reporting of sport, and equal opportunities, notably in cycling, for women to be able to compete on the same terms, and over the same race distances, as men.
Chrissie is currently Global Head of Health and Wellbeing at Park Run and recently completed the London Marathon, without a great deal of training, in a most impressive 2 hours 48 minutes!