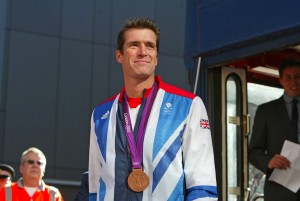 The Dell Management Challenge are delighted and proud to be associated with Greg Searle. Greg is a Olympic icon, winning a gold in 1992 Olympic rowing final of the coxed pairs . Greg staged a sensational comeback for the 2012 Olympics, aged 40, and won World Cup Gold and Olympic Bronze.
Greg will be the keynote speaker at the Dell Management Challenge 2015. Greg will draw on his successful Olympic and Executive Coaching experience on the importance of a clear vision, shared values and  at a performance level, contracting to a common cause to enable #TeamOptimisation. We recently caught up with him to undertake a brief Q and A profile:
 1          Personal profile:
 Age: 43
Home: Somerset 
Family: Wife and two kids
Occupation: Consultant
Current fitness regime: Regular running, golf and dog walking.
Interests: Watching my kids sport. Golf
Last holiday: Sardinia – Forte Village.
Last film watched: Divergent
Last book read: Talk Like TED
Newspaper read: Sunday Times
2          What you been up to since winning bronze in 2012?
 Working with Companies to help them perform like TeamGB
3          Can you confirm you have no plans to launch another comeback for Rio 2016?
 Watching the next generation now. No sporting goals for me. 
4           What are your thoughts and predictions for the GB Rowing team in 2016
TeamGB have set a goal to win more medals in Rio than in London. It's a big ask because no one has ever won more medals after hosting than when they hosted. With the collaboration between Olympic Sports and The whole Paralympic team I think we can do it. 
5          What are your views  on the recent Sunday Times finding on IAAF as regards use of EPO and PED?
I think some sports are dodgy and I'm glad they are looking into it properly. I hope we aren't all tarred with the same brush. 
6          We are delighted to welcome you as our keynote speaker on the 25 September, what is it that appeals to you to appear at this event and what will you be looking to achieve and communicate at the event?
 I like the idea of teams working together outside of their regular day to day business. I'm looking forward to helping people have a different level of connection to their colleagues. 
7          The Theme of the event is #TeamOptimisation. What does this term mean to you?
Team Optimisation is about getting the best from everyone. 
8           From your experience of two Olympics, World and European championships,what makes great/winning teams?
The best teams share a common purpose. They know why they are all there and have a level
Of interdependence to deliver collectively. 
9          Tell us why goal setting is important or indeed not important?
Outcome Goals get us out of bed in the morning. Performance goals help us measure progress and Process goals help us know how we need to act and behave on a daily basis. 
10         What are the key things you would be doing in terms of preparing for this event – as a team and as individuals?
Every session is an opportunity to learn. I'd encourage people to give and receive honest feedback so no training is wasted. 
11          From your experience as a Senior Executive Coach what difference do healthy executives (engaged in sport) have on their team's productivity? Are physically fit teams more productive and why?
I believe the way you do anything is the way you do everything. If you look after yourself well then I'm sure you look after business well too. 
12         We appreciate there are many positive takeaways for the teams and individuals in the event, but if you had to pick just one, what would it be?
Having different conversations and experiences with each other. 
13          Quick fire questions
2 or 8 man: Eight 
Water or isotonic drink: Water
Weight training or aerobic: Aerobic
iphone or android: iPhone
White or red: White
Twitter or facebook: Twitter @gregsearle2012
Beach holiday or skiing: Skiing
Mountain biking or road biking: Mountain biking