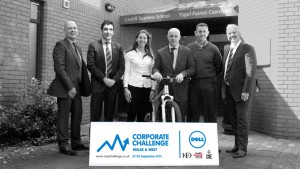 The 2014 Dell Corporate Charity Challenge was formally launched today at the Cardiff Business School. The challenge takes place over the weekend of 27th & 28th of September and is this year supported by Dell alongside associate sponsors Cardiff Business School and the Institute of Directors.
The primary charity beneficiary is the Duke of Edinburgh Awards. Ian Gwilym, Operations Director, is thrilled to be supported by this year's corporate challenge: "This is a brilliant and highly enjoyable event format which we have been involved in for over nine years. We are delighted to work with all the organising team as well as being a beneficiary charity".
The Dell Corporate Challenge is a unique adventure racing and team building event that has been running for nine years with past and current competitors from organisations such as GE, Toyota, Legal and General, Eastman etc. The adventure race takes place over a weekend in various parts of the Brecon Beacons National Park and involves teams of six people (plus one support member) competing in a race involving mountain biking, hiking, trail running and mountain biking. The event also includes management development, senior level networking and a CSR challenge.
Hywel Loveluck, Head of Event Fundraising and Organising team, said: "We are extremely grateful to our title sponsor Dell, especially to CEO Tim Griffin and his management team, for making this event possible.. The event really focusses on developing teams, sporting competitiveness and using management knowledge to succeed, which in turn can deliver performance improvement back in the workplace."
As associate sponsors Cardiff Business School are lending students and faculty members to offer presentations over the weekend. Professor Rob Morgan, Professor of Strategy, has been working with Hywel and his team to develop an interactive presentation and Q & A at Christ College Brecon involving Nicole Cooke MBE and high performance coach Andy McCann. These speakers are in keeping with the theme of the challenge: Igniting personal and team performance
Former Olympic Champion Nicole is currently studying towards her MBA at Cardiff Business School. Nicole says of her involvement: "It'll be great to be part of an event where we will draw parallels
between elite sports performance and performance in business organisations. I'm looking forward to sharing the stage with Andy McCann who a highly respected coach is working with elite athletes such as Sam Warburton and Leigh Halfpenny, as well as senior corporate executives"
Robert Lloyd-Griffiths of the Institute of Directors notes: "We are absolutely delighting in supporting this challenge event in Wales and the South West. There is a real demand for sporting events which integrate management development with sporting challenges and where better to locate the challenge than the beautiful Brecon Beacons?"
The Dell Corporate Charity Challenge takes place in the Brecon Beacons on Saturday 27 and Sunday 28 September 2014.
For more information please visit the event website: http://www.managementchallenge.co.uk/ and follow the event on twitter @corpchallengeww.
Further information:
The Dell Corporate Challenge 2014 ( www.corphallenge.co.uk) is a competitive team building event which has been running for 9 years involving teams of 6 people from the likes of GE, Toyota, PwC, Legal & General. The event, is focused on developing teams and management ability in order to deliver performance improvement back in the workplace.
This is reflected in the event theme "Igniting personal and team performance". In summary, the Dell Corporate Challenge event comprises:
 A two day adventure race (canoeing, mountain biking, trail running, hiking etc,)
 Management and personal development element delivered by partners Cardiff Business School
 Q and A with former Olympic Champion Nicole Cooke MBE and high performance coach Andy McCann
 Networking opportunities with Senior Executives from major corporates, Dell as well as associate sponsors IOD and Duke of Edinburgh Awards.
 CSR benefits and charity challenge in support of Action for Children and Duke of Edinburgh Awards
 Unique team building opportunity to deliver a range of business benefits to the returning workplace
Contact:
Hywel Loveluck
Head of Fundraising & Organising team
07899 998864
Hywel@corpchallenge.co.uk
www.corpchallenge.co.uk
Twitter @corpchallenge.co.uk